Admissions Open 2024-25
All students are assigned a House for the duration of their time at The Sanskaar Valley School. Each of our Houses symbolizes a 'sanskaar', an ideal that is both admired and desired in our children.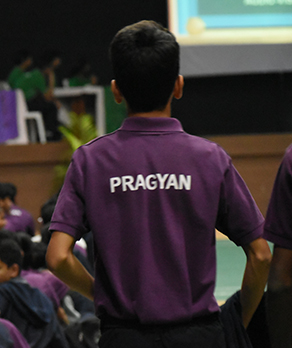 Udyam (Red)
Red symbolizes the spirit of perpetual progress towards discovery and attainment of knowledge. Students of Udyam believe that ceaseless action, perseverance and diligence are the pillars of success and happiness.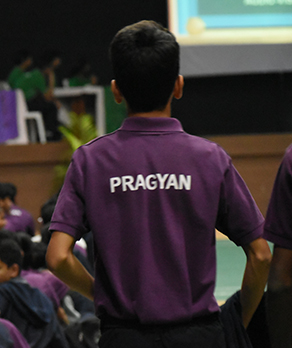 Pravir (Green)
The colour green represents courage and valour. Students of PRavir are inspired to work with fearless conviction, and stand by what is right.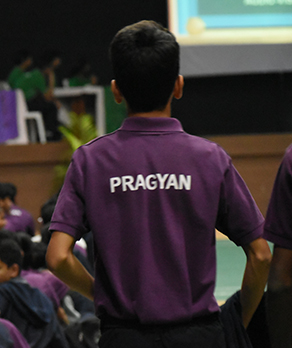 Satya (Blue)
The colour blue signifies the truth. Students of Satya strive to walk upon the path of righteousness, excellence and honesty with humility in their hearts.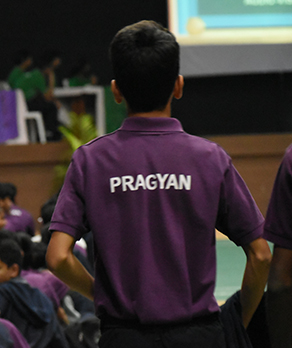 Pragyan (Purple)
The colour Purple embodies wisdom, insight and intelligence. Pragyan strives to encourage the students to pursue wisdom and experience.
Best School in Madhya Pradesh
top schools in bhopal
smart classrooms school bhopal
best school bhopal
best icse school bhopal
top cbse school bhopal
Best School in Madhya Pradesh
top schools in bhopal
smart classrooms school bhopal
best school bhopal
best icse school bhopal
top cbse school bhopal
Best School in Madhya Pradesh, top schools in bhopal
smart classrooms school bhopal
best school bhopal
best icse school bhopal
top cbse school bhopal
Best School in Madhya Pradesh
top schools in bhopal
smart classrooms school bhopal
best school bhopal
best icse school bhopal
top cbse school bhopal
top cbse school bhopal
The Sanskaar Valley School, Day Boarding School, Residential Schools, International School Classroom in Bhopal, International School In Bhopal, Best boarding schools in Bhopal, Best schools in India, Schools in India, Best Schools in Bhopal, ICSE Schools, Best School in MP, the sanskaar valley school, tsvs bhopal, indian public schools' conference (ipsc), isc schools in bhopal, top 10 icse schools in india | bhopal, round square, top 10 boarding schools in mp school in bhopal, best boarding schools in bhopal, all india best school in bhopal, microsoft showcase schools in india, best school in mp, best boarding school in madhya pradesh, international school classroom in bhopal boarding schools in madhya pradesh, best schools in bhopal |india, day boarding school, top 10 icse schools in india, best schools in bhopal, the international award for young people (iayp), international school in bhopal, best residential school in india, best school in india, top 10 boarding schools in india, best icse school in india, best boarding school in india, icse schools in india, top 10 schools in india best international school in india, cambridge international examinations, cambridge international school, top 10 school in india, top 10 boarding school in india, cbse school in bhopal, best schools in india, future 50 schools shaping success, icse schools. The Sanskaar Valley School, Day Boarding School, Residential Schools, International School Classroom in Bhopal, International School In Bhopal, Best boarding schools in Bhopal, Best schools in India, Schools in India, Best Schools in Bhopal, ICSE Schools, Best School in MP, the sanskaar valley school, tsvs bhopal, indian public schools' conference (ipsc), isc schools in bhopal, top 10 icse schools in india | bhopal, round square, top 10 boarding schools in mp school in bhopal, best boarding schools in bhopal, all india best school in bhopal, microsoft showcase schools in india, best school in mp, best boarding school in madhya pradesh, international school classroom in bhopal boarding schools in madhya pradesh, best schools in bhopal |india, day boarding school, top 10 icse schools in india, best schools in bhopal, the international award for young people (iayp), international school in bhopal, best residential school in india, best school in india, top 10 boarding schools in india, best icse school in india, best boarding school in india, icse schools in india, top 10 schools in india best international school in india, cambridge international examinations, cambridge international school, top 10 school in india, top 10 boarding school in india, cbse school in bhopal, best schools in india, future 50 schools shaping success, icse schools
The Sanskaar Valley School, Day Boarding School, Residential Schools, International School Classroom in Bhopal, International School In Bhopal, Best boarding schools in Bhopal, Best schools in India, Schools in India, Best Schools in Bhopal, ICSE Schools, Best School in MP, the sanskaar valley school, tsvs bhopal, indian public schools' conference (ipsc), isc schools in bhopal, top 10 icse schools in india | bhopal, round square, top 10 boarding schools in mp school in bhopal, best boarding schools in bhopal, all india best school in bhopal, microsoft showcase schools in india, best school in mp, best boarding school in madhya pradesh, international school classroom in bhopal boarding schools in madhya pradesh, best schools in bhopal |india, day boarding school, top 10 icse schools in india, best schools in bhopal, the international award for young people (iayp), international school in bhopal, best residential school in india, best school in india, top 10 boarding schools in india, best icse school in india, best boarding school in india, icse schools in india, top 10 schools in india best international school in india, cambridge international examinations, cambridge international school, top 10 school in india, top 10 boarding school in india, cbse school in bhopal, best schools in india, future 50 schools shaping success, icse schools. The Sanskaar Valley School, Day Boarding School, Residential Schools, International School Classroom in Bhopal, International School In Bhopal, Best boarding schools in Bhopal, Best schools in India, Schools in India, Best Schools in Bhopal, ICSE Schools, Best School in MP, the sanskaar valley school, tsvs bhopal, indian public schools' conference (ipsc), isc schools in bhopal, top 10 icse schools in india | bhopal, round square, top 10 boarding schools in mp school in bhopal, best boarding schools in bhopal, all india best school in bhopal, microsoft showcase schools in india, best school in mp, best boarding school in madhya pradesh, international school classroom in bhopal boarding schools in madhya pradesh, best schools in bhopal |india, day boarding school, top 10 icse schools in india, best schools in bhopal, the international award for young people (iayp), international school in bhopal, best residential school in india, best school in india, top 10 boarding schools in india, best icse school in india, best boarding school in india, icse schools in india, top 10 schools in india best international school in india, cambridge international examinations, cambridge international school, top 10 school in india, top 10 boarding school in india, cbse school in bhopal, best schools in india, future 50 schools shaping success, icse schools