Physical Education (PE) is an inclusive part of the curriculum at The Sanskaar Valley School and state of the art facilities are available for Swimming, Skating, Roll Ball, Badminton, Gymnastics, Tennis, Soft Tennis, Squash, Taekwondo, Chess, Yoga, Soccer, Basketball and Cricket. Coaches with specialization in each of these disciplines are responsible for teaching, training and mentoring the students in the sports arena through classes in the timetable, games for boarders after school, team practice sessions and summer camps. Students are encouraged to participate in the SGFI, IPSC and other Invitational and Open Tournaments.
In fact, the school has hosted district and national level tournaments in basketball, badminton and squash to mention a few.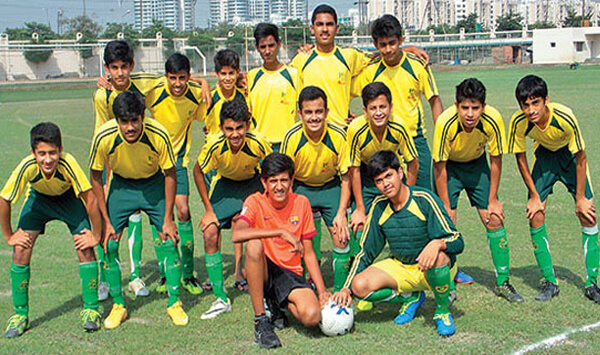 ---
Age appropriate games and techniques are introduced to students beginning from the pre-primary school. Skill development begins from class II and III through a rotation plan which introduces the child to approximately 8 various sporting disciplines. Class 4 upward, the child specializes in the game of choice and trains in a sport for the full year. Inter house matches, sports carnivals and friendly matches keep the sports culture thriving on campus.
Whereas the main aim of the physical education department is to instill the love for sport and the spirit of sportsmanship in every child, the school won over 460 medals last year in various district, divisional, and state level tournaments. The school boasts over 9 participants at the national level in the last year itself with some having represented school even at the International Level.
Sports fields serve as an extension of the class room and provide the nurturing grounds for trials, tribulations and adventure so important in the process of growing up.
Sport, is joyful learning and the school provides State of the Art facilities in the Multipurpose Hall - Umang which includes provisions for Gymnastics, Yoga, Taekwondo, a Skating Rink, a Swimming Pool, three Badminton Courts and two glass- backed Squash Courts. The Football Field with two grandstands, the Cricket Pitch with facilities for Net practice, two Basketball Courts and two Tennis Courts are other facilities provided on campus.
---
Sports Activities Offered
| | |
| --- | --- |
| Skating | Gymnastics |
| Yoga | Taekwondo |
| Fitness | Track and Field |
| Badminton | Soccer |
| Tennis | Basket Ball |
| Cricket | Swimming |
| Squash | |